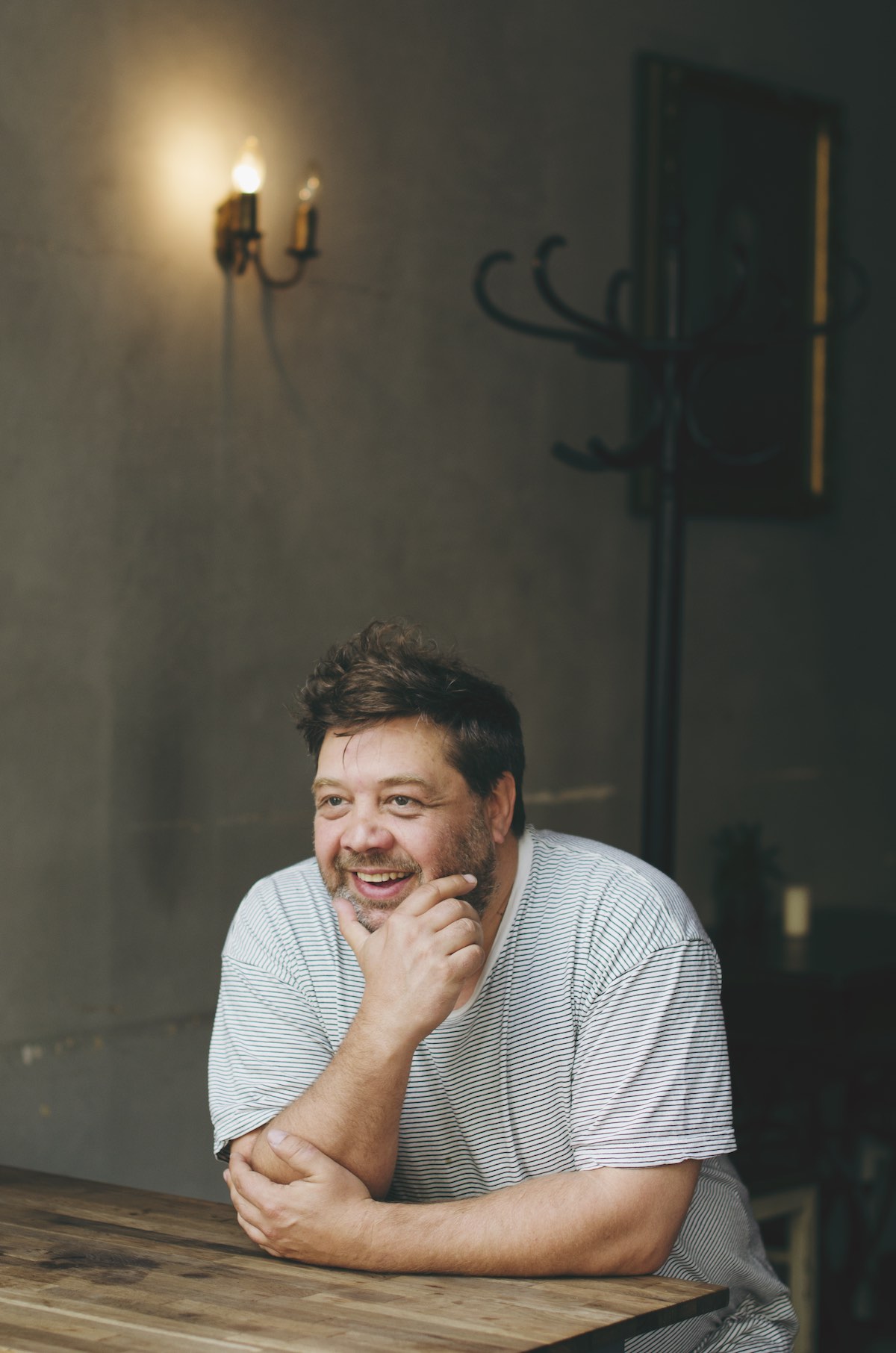 Editor's note: This is a print-only feature, originally published in Thisispaper Issue Three. To read the interview in its entirety, pick up the print magazine in our online shop.
Eike König INTERVIEW
Berlin, June 2014
2014 marked the 20th anniversary of the birth of HORT, the Berlin graphic design studio that is as brilliant as it is unruly. The brainchild of Eike König, HORT is known in the design world for its uncompromising approach: producing work that is never short of spectacular, which clients can either take or leave.
©Thisispaper
Words: Irma Kubisty
Photography: Kasia Zacharko
While a lot of design agencies have a tendency to lose quality of their projects as commissions pile up, HORT does just the opposite. Having met not just Eike, but a few current and former team members as well, we can confirm that the studio is in every way, as the legend has it, a community of incredibly talented designers who are bonded not by hierarchy and contracts, but by respect, friendship and a mutual creative ethos.
Thisispaper: HORT is famous for its studio culture of mutual support and trust. One can hardly believe that such a utopian workplace can exist in today's harsh economic circumstances. How do you maintain such a dream work environment when other design agencies struggle financially?


Eike: The way we work won't make us millionaires. We've made a decision to only work with brands or people who present a challenge for us and with whom we can build a relationship. Every studio has to make the decision—it's either better work, less money, or more money, worse work. Working on things you like and are proud to show is much more of a motivator for us than the financial reward. HORT is always about people. We don't work for brands; we work with people, whether they're clients or members of our team. Luckily after 20 years in the business, and having been very consistent with our client work, we have reached a point where we are only approached by clients who seek the HORT attitude.
Our studio culture is very simple. Everyone at HORT is a special character. I've had my own experiences working in agencies and found that certain workplaces were more about fitting in than about developing my personality and skills. I decided to create my own studio that would focus on providing a platform for personal development. I wanted to create a space where young people have the chance to be who they are; to try, fail, learn and grow. This was something I searched for, but couldn't find. My idea of working with others is focused on creating an environment where they feel respected and safe and where they're allowed to try different things. The team at HORT is very important to me, and the bond we have is irreplaceable. The studio culture comes directly from the respect we have for each other.
T: It seems that at HORT you're concerned with the process in addition to the final outcome.



E: A good project for me is a combination of factors: a challenging task, a strong relationship with the client, having a good time working on it and a product that satisfies the audience, the client, and us as designers. All these things together make a good project; that's something people often forget. I never say that it's all about the outcome—for me it's about everything leading up to it as well, and that's the reason why I run HORT the way I do. That's a bigger thing than looking for fame or financial success. When I'm at HORT, I meet people who have their own stories and their own lives, which is why I work with them. HORT is about creating ideas as a team, getting paid for them and having a good time in between. I don't want to work on things I hate just to earn money.


T: That's clearly an effective way to bring the best creative potential out of people. Why do you think most studios deviate from this approach?

E: It's an ego thing on the bosses' part. Our way doesn't focus on maximizing business, but on maximizing creativity. We work as a collective—HORT is not "Eike König Studio." The people on our team are all strong personalities and most of them have their own businesses. There's probably no other HORT because there's no other me. It sounds a little bit strange, but others don't run their studios the way I do. I want designers to stay true to themselves as much as possible, while other agencies try to erase individuality and fit people into a structure that works from an egotistical point of view. If someone has an idea that's better than mine, I have no problem with letting my idea go, because it's about something that's bigger than my ego. When you said that HORT is a utopia—it is. It's a utopia I live in, and it can't be implemented anywhere else.

Big agencies ask me to give lectures on studio culture, but the thing is that a studio has a DNA that's defined from the beginning and can't be changed afterwards—just like human DNA. So when an agency asks how they can change their studio culture, the only thing I can tell them is that they can't. The way HORT works was set the moment I started it, inspired by my own ideals of a working environment. I can't change that anymore.
T: Your approach also requires courage. You often say that "people fear to say no" or that "we are surrounded by fear."
E: Fear is the most dangerous energy you can be confronted by. What I miss most in some designers—and in clients—is the courage to make decisions. At HORT, we often come up with ideas that question the brand's status quo, which can be seen as extreme or daring, and if I don't have the courage to fight for them, neither will the client. I'm the one who pushes things and tries to make them feel confident about an idea. The visual language we use is very powerful; it takes sensibility and courage to embrace it. It works well with people who are visionaries looking to the future. We're very lucky that we had the chance to work with such individuals at Bauhaus, [Künstlerhaus] Mousonturm and Nike.
For me, design has always been about questioning the past in order to shape the future. People often prefer to settle for tried and tested methods, but I always look for other ways. When someone comes to us, they want to find out what possibilities there are for their brand. They want to see both the most extreme ways of perceiving the brand, as well as what's closer to its current image.



T: Of all these different possibilities, how do you choose the image that works best for the brand?



E: I don't have a clue. If you look at good things, you know they are good. A friend of mine builds bikes. When he's finished with one, you can just see it. It's a moment when knowledge, technology and design come together to a point where you think, "It's good." If you've experienced this, you will be able to see it. —


Published: 2014, Berlin


Thisispaper Issue Three




www.hort.org.uk


©Thisispaper


Need more? ︎ Index ︎ Next ︎ Random



Thisispaper is an art direction and design studio founded in 2011, specializing in brand development and innovation.